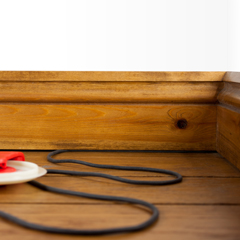 DraughtEx already has many satisfied customers who have benefited from the unique way it fills the gap between floorboards, eliminating draughts and helping to reduce energy bills. It can also be used equally successfully at the base of skirting boards.
There is often a gap between the skirting board and the floor which can create cold draughts, chilly rooms and winter discomfort. As with floorboards, the size of the gap often varies and traditional filling methods can be messy to install and will most likely fall out over time.
DraughtEx comes on a roll and with a special applicator allowing you to press it into the gaps where it expands to form the perfect seal. There is no mess and its 'shadow' colour means that you will not see it is even there. The filler is available in three thicknesses to cover all gap sizes, although the standard size will be suitable in most cases. If you are unsure what size you require just order a sample pack which contains a length of each thickness and an applicator.
Research by The Energy Saving Trust estimates that a household can save between £20.00 and £40.00 per room, per year, by filling skirting and floorboard gaps. With energy bills rising these savings can only increase!
See our video to find out how easy it is to use DraughtEx with skirting boards.